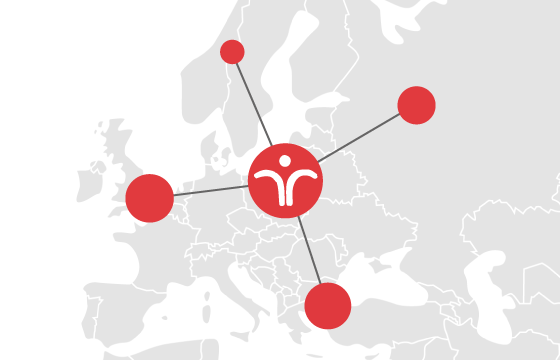 Today, on International Roma Day, the ERRC Roma Rights Network was launched after its first meeting was held in hybrid format in Budapest. The network includes 18 human rights organisations from 15 different countries and seeks to unite activists, Roma and non-Roma alike, who are fighting to protect the human rights of Romani people throughout Europe.
Anyone who observes what is happening in Europe today can see that human rights – Roma rights – are under greater threat from those who want to deny these rights to us than at any time in recent years.  Human rights activists have proved over and over again that actively defending Romani people's rights through rights-based action, and not just words or political aspirations, brings real and meaningful change to Romani communities who are most threatened. This network has so much potential to unite these brave human rights activists towards a common goal, rooted in a firm belief in anti-racism, anti-fascism, and the undeniability of fundamental rights for everyone said the ERRC's President, Đorđe Jovanović.
The Roma Rights Network exists to promote a human rights based approach to Romani activism. Its members are both Roma-led organisations and human rights groups focussed on improving access to basic rights for Romani communities. The network aims to impact the human rights agenda for Roma in Europe, improve rights-based advocacy efforts, foster debate about Roma Rights issues and increase the use of human rights litigation as a tool of activism.
The network is facilitated by the European Roma Rights Centre (ERRC) which acts as an equal partner alongside other members. It is envisaged that the network will grow and the members are open to new partnerships with human rights focussed non-profits who are active in challenging rights violations of Romani communities.
The ERRC Roma Rights Network consists of:
European Roma Rights Centre, Belgium
Equal Opportunities, Bulgaria
Organization Drom, Bulgaria
Forum for Human Rights, Czech Republic
The Finnish Roma Association, Finland
La Voix des Rroms, France
Rom e.V, Germany
Greek Helsinki Monitor, Greece
Hungarian Civil Liberties Union, Hungary
Associazione 21 luglio Onlus, Italy
Naga, Italy
Macedonian Young Lawyers Association, North Macedonia
RomaJust, Romania
Group for Children and Youth Indigo, Serbia
Vojvođanski Romski Centar, Serbia
EduRoma, Slovakia
Fundación Secretariado Gitano, Spain
Vested, Ukraine
This press release is also available in Bulgarian, Finnish, German, Greek, Macedonian, Romanian, Serbian and Spanish.
Redaktionen
redaktionen@dikko.nu
---
Att vara en oberoende tidning kostar pengar så vill du hjälpa oss med att betala vårt fika får du gärna swisha en slant till 123 242 83 40 eller bg: 5534-0046
Vill du annonsera eller sponsra, synas eller höras i våra media?
Kontakta oss på redaktionen@dikko.nu
eller ring 0768 44 51 61
IBAN: SE19 9500 0099 6042 1813 4395
BIC: NDEASESS