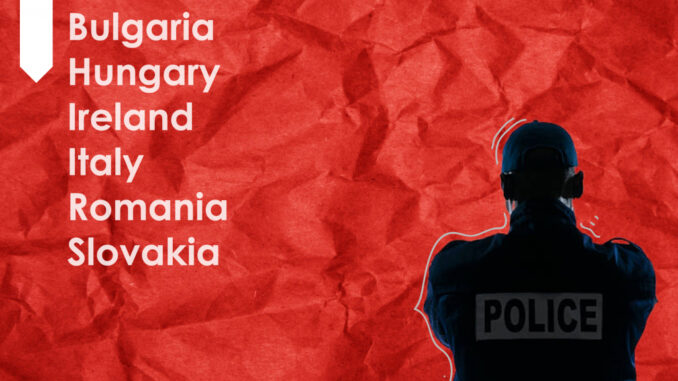 A new report published today by the European Roma Rights Centre (ERRC) highlights widespread institutional racism towards Roma in the law enforcement systems of six EU member states: Bulgaria, Hungary, Ireland, Italy, Romania, and Slovakia.
The report, Brutal & Bigoted: Policing Roma in the EU, reveals a widespread culture of impunity amongst European police forces and finds failures to protect Roma, as well as to adequately investigate racially motivated hate crimes, to be common to the law enforcement agencies of all six countries. The report recommends the urgent need for the creation of a binding EU charter for common basic standards which enshrines rights-complaint, non-discriminatory, and non-racist policing across the Union.
ERRC President Đorđe Jovanović said: "We have been calling out and litigating police brutality against Roma for years; about 50% of all of our active legal cases concern police misconduct. Last year, the Black Lives Matter movement brought about a sudden public awareness of racist policing in Europe, and led to some political movement from the EU towards addressing widespread institutional racism in police forces. We want this issue to remain on the European agenda. This report as well as future research, combined with our monitoring, our advocacy work, and our litigation provide more than enough evidence of the problem. What we need now is the bravery and political will in Brussels, and in the Member States, to do something about it."
The report builds on recent research carried out by the ERRC and global criminal justice watchdog Fair Trials into the experience of Romani people in European criminal justice systems. This research project, which is being carried out in eight European countries, described how "Romani communities are not only heavily targeted, but even harassed and provoked by the police." The evidence in this new report published today leaves little doubt that issues around access to justice and antigypsyism run deeper than discrete incidents of police brutality. Numerous documented cases reveals that law-enforcement agencies are institutionally racist; that antigypsyism is clearly evident in the ways Romani communities are policed; and that there is official tolerance at the highest levels of a culture of impunity within law enforcement when it comes to mistreatment of Roma.
The sheer volume of complaints, cases, and evidence of police misconduct collected by the ERRC over recent years lends further credence to the conclusion from this report: that across Europe anti-Roma racism and discrimination are systemic within many law enforcement agencies, where a culture of impunity emboldens police officers to action their racist prejudices and engage in arbitrary, and sometimes lethal violence against Roma.
Based on the evidence collated in this report the ERRC recommends a common binding EU charter on rights-complaint policing, as well as an extension of the EU Race Equality Directive (2000/43/EC) to protect citizens from racist misconduct by law enforcement. In member states, fully independent bodies responsible for investigating police misconduct are absolutely necessary to ensure that police do not abuse their powers and brutalise Romani citizens with impunity.
Redaktionen
redaktionen@dikko.nu
---
Att vara en oberoende tidning kostar pengar så vill du hjälpa oss med att betala vårt fika får du gärna swisha en slant till 123 242 83 40 eller bg: 5534-0046
Vill du annonsera eller sponsra, synas eller höras i våra media?
Kontakta oss på redaktionen@dikko.nu
eller ring 0768 44 51 61
IBAN: SE19 9500 0099 6042 1813 4395
BIC: NDEASESS