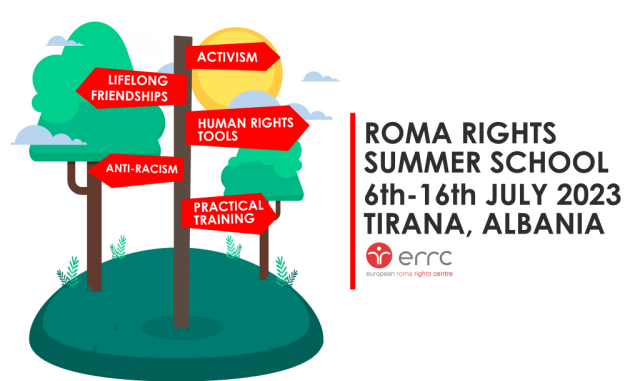 The European Roma Rights Centre (ERRC) is pleased to accept applications for the highly acclaimed Roma Rights Summer School. The Summer School will be organised this year in Tirana, Albania from the 6th – 16th July 2023.
The ten-day training program has been organised especially for young activists and students of Romani, Sinti, and Traveller origin from all European countries.1 The Summer School will offer an introduction to a human rights approach, providing the basic skills for young Roma to become human rights activists. The Summer School also serves as a forum for the exchange of ideas, innovation, and expertise for participants who are at an early stage in their careers.
Starting with a grounding in historical persecution, including the Holocaust, and linking Europe's history of antigypsyism with modern rights violations, the Summer School curriculum focusses on a rights based approach to activism. It offers participants a chance to immerse themselves into the theory and practice of human rights, minority rights, and non-discrimination, to gain practical skills, and benefit from the knowledge and experience of committed human rights experts. This intensive programme includes a variety of social activities which will allow participants to network with each other and the experts, ensuring the programme is instructive and enjoyable.
The main goal of the Summer School is to engage and develop a new generation of Romani human rights activists to use international, regional, and domestic human rights instruments and mechanisms to advance the rights of Roma, and to combat racism and discrimination from grassroots to governmental levels.
Many alumni of the ERRC Roma Rights Summer School have gone on to become experts in their field, researchers, and professional activists working to improve the situation of Romani people across Europe. Supporting young Romani activists to defend the rights of their communities is one of the most important jobs we do at the ERRC. We are thrilled to be able to offer this opportunity once again and are proud to support the development of a new generation of dedicated human rights professionals.
Requirements for applicants:
Applicants must have a sufficient command of English to enable them to participate actively in the Summer School, as the working language will be English.
As training aiming to provide opportunities for Roma activists, applicants must belong to one of the ethnic groups listed at the bottom of this call.
Desirable:
Applicants are preferably students of law, public administration, or social sciences, or degree-holders in one of these fields. We also invite applications from activists who have not completed or are not currently in formal higher education but have several years of relevant work experience.
Particular importance is given to the participation of Romani women, as well as people who identify as LGBTIQ+ or people belonging to other groups who are at risk of intersectional discrimination.
Deadline for applications: Sunday 28th May 2023, 23:59 CET
Interested applicants should submit the following to summerschool@errc.org.
A letter of interest explaining their motivation for applying (no more than one page).
Curriculum vitae (CV)
A description of a human rights issue that the participant is aware of and would like to challenge (no more than two paragraphs).
Due to the expected high number of applications, only shortlisted candidates will be contacted. We aim to contact selected applicants within 10 days of the application deadline. If you have not been contacted by us in this time, you should consider your application to be unsuccessful. Please note that the email address summerschool@errc.org is unmonitored, therefore any emails sent to this address will not be answered.
The costs for participants' travel, accommodation, and meals will be entirely covered by the ERRC.
______________________
[1] The ERRC will accept applications from anyone belonging to one of the following ethnic identities, collectively referred to as 'Roma' by the Council of Europe (despite encompassing multiple ethnic groups): Roma, Sinti, Manush, Calé, Kale, Romanichal, Romany Gypsy, Gitanos, Bayash, Rudari, Traveller, Yenish, Gens du voyage, Balkan Egyptian, Ashkali, Dom, Lom.
Redaktionen
redaktionen@dikko.nu
---
Att vara en oberoende tidning kostar pengar så vill du hjälpa oss med att betala vårt fika får du gärna swisha en slant till 123 242 83 40 eller bg: 5534-0046
Vill du annonsera eller sponsra, synas eller höras i våra media?
Kontakta oss på redaktionen@dikko.nu
eller ring 0768 44 51 61
IBAN: SE19 9500 0099 6042 1813 4395
BIC: NDEASESS