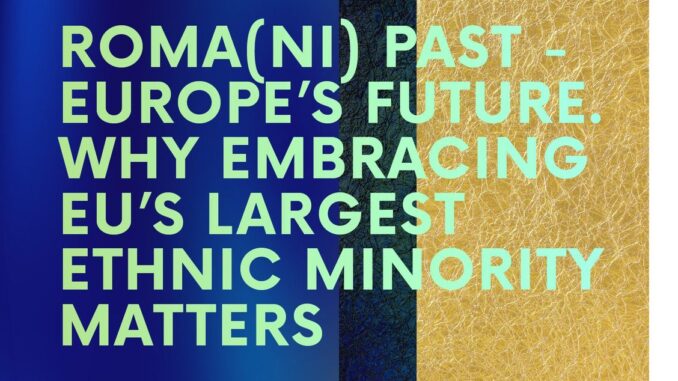 ONLINE COURSE ON ROMANI CULTURE
ERIAC NET4EU
Friday 14 October 2022
10.00 – 17.00 CET
Registration: https://eriac.org/romani-past-europes-future-why-embracing-eus-largest-ethnic-minority-matters-eriacnet4eu/
Roma have been part of the European and national histories and cultural landscapes for at least 700 years. Today, Roma constitute the largest ethnic minority in Europe with some 10 million citizens, and a global diaspora of over 15 million people. Yet despite the centuries-old presence, Roma remain largely unknown to majority societies. As a people, Roma are mostly thought of and treated as a social problem, perceived through the prism of marginalization, exclusion and poverty. Moreover, Roma today are the most stigmatized and discriminated minority in the EU; diverse manifestations of antigypsyism – the specific form of racism against Roma people – are a regrettable feature of daily lives of Roma in Europe. On the other hand, however, Roma remain a highly resilient and creative population whose diverse contributions to European social, cultural, economic, political, artistic, and even linguistic fields are yet to be acknowledged and embraced.
This online course will provide a brief overview of Roma history and culture as a point of departure to reflect on the social, political, cultural, economic and environmental importance of positioning Roma at the core of EU's public debates regarding our societal futures. The course will explore the difficult, sensitive or contentious issues related to Roma and antigypsyism, and help identify and incorporate human rights concerns into the work of public officers at local, regional, national or EU level.
The course will comprise of two parts:
the first part will offer with a brief overview of Roma history and culture;
the second part of the course will provide elements of reflection on the social, political, cultural, economic and environmental heritage and importance of positioning Roma at the core of EU public space and policy
Duration: Six hours, divided into two three-hour seminars, with a lunch break in between.
Language of instruction and educational resources: English.
Trainers: The course will be delivered by a group of experienced Roma scholars, with relevant expertise in the field, including knowledge of the most-recent discussions in Romani studies as well as most-recent Roma-related EU developments.
Lectures:
Why the EU needs Roma? by Zeljko Jovanovic
Introduction to Romani history and identity by Adrian Marsh
Roma culture – Europe's heritage by Timea Junghaus
Antigypsyism in theory and practice – unpacking different dimensions of racism against Roma communities by Dr Iulius Rostas
From Roma Resistance to Roma Agency by Dr Anna Mirga-Kruszelnicka
Roma Policy Influencing in the EU by Isabela Mihalache
To attend the course, prior registration is required.
Register here: https://eriac.org/romani-past-europes-future-why-embracing-eus-largest-ethnic-minority-matters-eriacnet4eu/
ERIACNET4EU network project aims at protecting, promoting and raising awareness of rights of Roma citizens of the EU and thereby at strengthening the EU values, in particular of equality, justice and non-discrimination and thus contributing to building a more democratic EU where all citizens can enjoy equal access and protection of their rights. The ERIACNET4EU project will offer expertise, specific know-how and reliable methodologies to support the implementation of the new EU Romaframework.
Redaktionen
redaktionen@dikko.nu
---
Att vara en oberoende tidning kostar pengar så vill du hjälpa oss med att betala vårt fika får du gärna swisha en slant till 123 242 83 40 eller bg: 5534-0046
Vill du annonsera eller sponsra, synas eller höras i våra media?
Kontakta oss på redaktionen@dikko.nu
eller ring 0768 44 51 61
IBAN: SE19 9500 0099 6042 1813 4395
BIC: NDEASESS