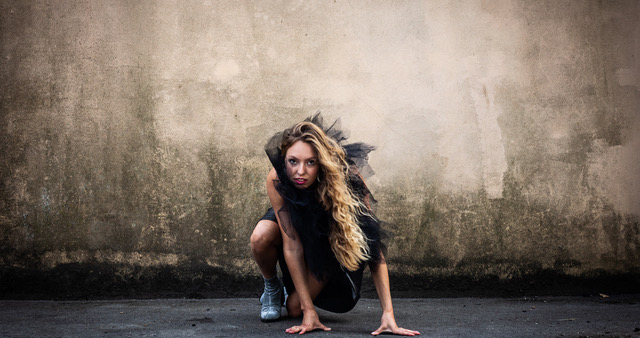 This is a piece I initially wrote back in 2019 about my time in Berlin, exploring my journey within the Roma arts scene here. It was first published on Romani Herstory in 2021 and has now been updated for DIKKO. This piece is me doing my best to articulate how I saw things and how my journey into art and activism in Berlin began. – Riah Knight 2022
It's my first summer in Berlin and I'm standing alone under the amber light of Hallesches Tor station as a train drags itself through the twilight sky. I've got masses of blue eyeliner all over the top half of my face, because you know, it's Berlin, and I'm wearing my latest find from the Sunday flea market; a gray bodycon with frayed edges – I feel like I've integrated. A band playing a mash-up of Klezma Reggae with some German flute starts to play from the canvas topped stage and I join the dancing crowd, avoiding swaying beer cups and cigarettes held up to the music like trophies. Two men join me for a boogie as the band wraps up a tune – shouts of:
'What's your name?'
'Where do you come from?'
'What brings you to Berlin?'
are exchanged over the throng of the crowd. Usually, being a dual heritage British Romani is not the first thing that comes up in a conversation for me. Being close to 6ft tall and blonde I am often mistaken for Swedish or some other country further north than rainy little Brexitland. But it is 2017 and I am in Berlin to start rehearsals for Yael Ronen's next opening show of the season at the Maxim Gorki Theatre- Roma Armee. As I tell the men this information they make confused eye contact –
'You're a Gypsy?'
I hesitate. In Europe, unlike my native England, Gypsy is a contentious word,
'A Romani yes, Romani Gypsy'
More confused eye contact follows
'But you don't look like a Gypsy?'
This I have heard before, so reply
'And what does a Gypsy look like?
'Not like you!'
One man goes on to explain how well he knows Gypsies and how much I simply cannot be one, alluding to long black hair and criminality. I nod incredulously as this man tells me how much I cannot be myself. Yet, over the last decade exactly these stereotypes have been challenged as Berlin has become the centre of a female lead Romani cultural renaissance.
"Half of the members of the ensemble are not Roma / Sinti at all"– is a quote from the national Austrian newspaper Die Presse about the production Roma Armee's performance in Rome at the European Theatre prize in December 2017. The cast consists of a diverse cross section of our community: Roma and Romani travellers from Austria, Serbia, Germany, Kosovo, Romania, England and Sweden, as well as two supportive non Roma Israeli-German-Turkish-Berlin Gadjé from the Gorki ensemble (Orit Nahmias and Mehmet Ateşçi). While the Roma on stage are all united by a common culture, a common history and traditions passed proudly or protectively from our families, we are as diverse as you would expect a group of people ranging from the ages of 20 to 40 from across the continent to be. The fact that none of us adhere solely to the much perpetuated image of a Roma was not a conscious choice on the part of the theatre, so much as a reality reflecting a broad cross section of our community; some of us are privately educated and some of us grew up in a refugee camp. The fact that this reviewer could simply not fathom that these diverse, accomplished, talented, educated people on the stage were actually Roma is yet another example of how our narrative has been owned and held in the hands of the external society for so long that they see themselves as the experts on what makes us who we are.
Roma Armee was founded on the idea of Roma sisters, Sandra and Simonida Selimovic (AKA Mindj Panther/ Romano Svato) and staged by a largely female team: female director (Yael Ronen), female assistant director (Isabella Sedlak), female dramaturge (Irina Szodruch), female assistant dramaturge (Sandra Wolf), female costume designers (Delaine Le Bas, Maria Abreu), female stage designer (Heike Schuppelius), female video artist (Hanna Slak)…female head of Maxim Gorki (Shermin Langhoff )… and with a group of actors who are also, by a small majority, mostly women.
The original genesis was to form a Roma army for the resistance and defence of our rights, culture and identity – an army of activists and actors to reclaim our narrative. And while the contribution and narratives of the men in the production (Lindy Larson, Hamze Bytyci, Damian Le Bas) are integral and valued, as a mostly female team a feminine agenda found a central role in the shows development by default – not to mention that we had radical feminist, and founder of the word for feminism in the Romani language (Giuvlipen), Mihaela Dragan as part of the cast. Periods, political vaginas and mothers, always mothers, play a key role in the formation of this army, with each used to highlight a different tactic of annihilation used against us – tools of oppression which have now been transformed into topics of strength and empowerment.
Mihaela's own work with her feminist theatre company, also called Giuvlipen, based in Bucharest, develops pieces with Romnja actresses to "put forward an emancipating and affirmative vision of Roma women". In conversation with Valentina Iancu of Revista ARTA, Mihaela said of their work; "Giuvlipen was a response to the need for being rid of these label type roles I was always offered. It's evident that when your skin is not white, it does not correspond to the typology they want, besides, once you publicly assume a Roma identity, you remain identified by this one label and all the roles you're ever offered are within this zone…We totally reject stereotypical representations or to have others speak in our name, even via artistic means. We have an entire history of oppression and silencing, so no non-Roma artist has any right to represent us in their project without asking us first." Having recently been flown to New York as a nominee for The Gilder/Coigney International Theatre Award, Mihaela is firmly driving forward new and radical representations of Roma women in theatre.
The Selimovic sisters also founded a Roma theater group in 2010, Romano Svato, which aims to fight against prejudices towards Roma and Romnija while also declaring themselves within their community as independent and feminist. They launched a festival in Vienna in the summer of 2018, 'Festival E Bistarde | Vergiss Mein Nicht', in which they invited numerous Romnja to perform from Berlin and across Europe (myself and the Roma Armee included).
My connection to the Roma Armee came through the late artist Damian Le Bas and Delaine Le Bas, British Romanis who at points had worked with my mum in the British Romani activist movements. Damian contributed to the design of the set for Roma Armee and Delaine the costumes. Describing her work as 'outsider art', in 2011 Delaine presented the exhibition 'witch hunt' at Berlin's Kai Dikkas Gallery. The installation demonstrated the connection between the persecution of women as so-called witches and the Roma people, both stigmatised and persecuted due to society's "hysterical and hateful" response to outsiders. Both are constructed as exotic and barbaric, sexualised and demonised in equal measure. Delaine continued working on the duality of this oppression with Mihaela in the Medea Rromnja at TAK in 2018 and in September 2019, Delaine and I were involved in Yael Ronen's show 'Rewitching Europe', which aimed to deconstruct patriarchy by exploring the division between ritual and theater.
At the same time Mihaela was developing her play about techno-witchcraft "Romacen" at London's Royal Court and has since continued to take the idea of Roma Futurism, also explored in Delanines work and in the 1st Roma Biennial at Gorki's studio R, to new dimensions in her recent short film 'The future is a safe place hidden in my braids".
This rising of female power at the forefront of the Roma arts scene can also be seen in the newly founded European Roma Institute of Arts and Culture- ERIAC – also based in Berlin, that launched during the early rehearsals of Roma Armee in 2017. This predominantly female fronted organisation (Tímea Junghaus, Anna Mirga-Kruszelnicka) is bringing the work of Roma into the mainstream institutions of Europe, giving space to the community and empowering us across continents with much style, intellectual rigour, glamour, vision and ferocity. It is also building on work that was done in the UK with the 'Gypsy Roma Traveller History Month' – a UK Government endorsed Arts and Culture initiative, that has run across Britain for the month of June since 2008. For its first three years, it was also fronted and coordinated by a Romani woman – Patricia Knight (who happens to be my mum).
ERIAC recently joined forces with Rumänisches Kulturinstitut Berlin (RKI) for "Roma Women Weaving Europe", an exhibition to honour Romani women "as leaders and survivors, guardians and reinventors of culture, revolutionaries and change-makers". In the exhibit's opening speech ERIAC deputy director Anna Mirga-Kruszelnicka stated 'Roma women are the fundament of Roma communities. Their role and influence are unquestionable. As transmitters of culture they are also its re-inventors. In this sense, the very survival of the Roma culture depends on Roma women. They are the backbone of the families and entire communities and the advancement of Roma as a people are to a great extent their doing". However the exhibition was clear to point out "Roma women live in a patriarchal culture. Indeed, Roma society is organized around gender – just as the mainstream society is – and this creates intersectional discrimination for them as women and members of a stigmatized ethnic minority." But this "higher risk of social exclusion and poverty" is seen as a contributing factor to what makes the work of Romani women so ground-breaking, because of their social and racial status they are pushed to "creatively challenge patriarchal and racialized oppression" from a unique standpoint.
There are approximately six million Roma women in Europe, who like other minority groups, know all too well about the impact of gender inequality. When looking at marginalised groups, it is said that the starting place of change is with the women and children and this continuous wave of Roma women leading the way and coming to the forefront in new representations of our culture, is a form of social rejuvenation and regeneration that is much needed among our community. Berlin is emerging as a hub of Roma arts and empowerment, with female fronted initiatives, like Romnja* Power Month, organised by the amazing women at IniRromnja and RomaniPhen Archiv, leading the way. A colleague and I sometimes joke that Berlin is perhaps the best place to be a Romani artist right now. Ironic perhaps, considering that in living memory Berlin was the centre of the organised genocide of our people, and that now their attempt at cultural reconciliation with the past has led to an increased awareness and sensitivity to ethnic minorities – one which is often still lacking in England, where the GRT population is currently being legislated out of their ethnicity by the new Police, Crime, Sentencing and Courts Bill. The proposed (and mostly approved) bill turns "trespass from a civil into a criminal offence", which not only criminalises protest, but also gives the police powers to arrest GRT people and confiscate their homes, if they stop in places that have not been "designated for them". As George Monbiot writes in the Guardian "Gypsies, Roma and Travellers have been deprived of places where they can lawfully stop, and then punished for the absence of provision…Under the proposed law, any adult member of the group can be imprisoned for up to three months… The police bill would deprive this minority of everything: homes, livelihoods, identity, culture, even their families". As Monbiot later points out, this "demonisation of mobile people, whether Roma or asylum seekers," is about "the rich controlling the poor, as if democracy had never happened" and is part of a dangerous shift to the right in UK and European politics. This context of policy change, coupled with rising xenophobic vioielcne against anyone seen as an 'outsider' within 'Fortress Europe', makes the thriving Roma arts scene in Berlin even more exceptional and necessary.
This creation of space for Romani arts led to me working with grass-roots organisation RomaTrial in 2019 to develop the project Romnja Jazz, which was funded through the State of Berlin for ten months. The aim of the project was to heighten the profile of and bring light to the work being done by female Romnja jazz musicians based in Berlin. For the project two other women of Roma / Sinti origin, Tayo Awosusi-Onutorr (also a key organiser of Romanja* Power Month), Matilda Leko, and myself were supported to establish our artistic presence in Berlin's arts scene. As part of the residency I lived in a light and airy flat over Weichselplatz, a tired and well-loved little park next to the Landwehr canal. For me the time really paid off, as I wrote my recently released EP 'Knight in Neukölln' (released with Get Together and part-funded by ERIAC), an intimate collection of songs reflecting my time here as a young woman, off-stage and behind the scenes, living and loving in Berlin.
Recently another young British Romani woman has been given the chance to settle in Berlin through RomaTrial, the journalist and filmmaker Lisa Smith, who is already contributing to the changing narrative of Romani feminism in Berlin with her podcast 'Smith's Kushti Podcast', which explores and connects Romani history, politics and identity with current news issues through in-depth discussions, interviews and opinions – her third episode was a special feature on Romani feminism featuring Romani women from across the world.
She recently programmed the 5th year of the 'Ake Dikhea?' festival of Romani Film, under the title ""Self-representation is my resistance". The festival championed female led films, with 'Gipsy Queen' by Hüseyin Tabak, starring Alina Serban winning the audience choice award. They also showed 'Taikon', the documentary about the phenomenal Swedish Romani activist and writer Katarina Taikon, Bibi Sara Kali by Simonida Selimović and Nina Kusturica, and Mihaela Dragan's "The future is a safe place hidden in my braids". The exploration of Roma womanhood and witchcraft continued with Dr. Émilie Herbert-Pontonnier, of the Romani Herstory Archive, three-part series exploring Romani women in early & silent cinema (1896-1929); from witches, dancers, and femmes fatales, to being doomed to a tragic fate or saved by the gadjo, the series rounded off by "reclaiming the lens" and "returning the gaze" in a discussion with Miheala, Simonida and Vera Lackova.
The concept of 'reclaiming the lens' can also be seen in a recently launched online exhibition, 'The Resistance of Remembering', which my mum Patricia Knight and I curated over the first lockdown. The exhibition is an intimate photographic essay of her photos from the first years of the Gypsy, Roma, Traveller History Month in the UK, during the time she was the National Coordinator. The exhibition concept, the 'resistance of remembering' is based on an idea expressed by Romani Prof. Dr. Ethel Brooks, and the photos are "a document of GRT heritage; positive images of intraethnic identity, creativity and belonging". The photos are taken from a female perspective from within the community, and show that we have the power to protect and project our own image. In the words of my mum "The photos in this exhibition are a testament to the power of community, to coming together and being seen and heard, but mostly they are a love letter to my people."
Again, women are taking space and coming forward to lead a new way for our community – in the words of Anna Mirga-Kruszelnicka "Romani women become the forefront of a new revolution". It would seem the Romani resistance, and therefore the future of the community, truly is female.
Riah Knight
redaktionen@dikko.nu
---
Att vara en oberoende tidning kostar pengar så vill du hjälpa oss med att betala vårt fika får du gärna swisha en slant till 123 242 83 40 eller bg: 5534-0046
Vill du annonsera eller sponsra, synas eller höras i våra media?
Kontakta oss på redaktionen@dikko.nu
eller ring 0768 44 51 61
IBAN: SE19 9500 0099 6042 1813 4395
BIC: NDEASESS