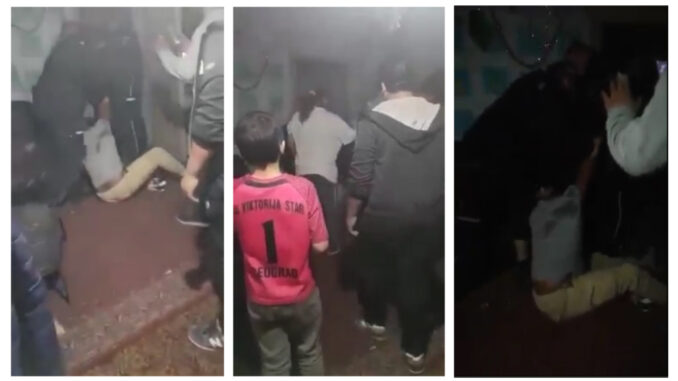 The European Roma Rights Centre (ERRC) and Vojvođanski romski centar will take legal action against police officers who invaded the home of a Romani family and violently assaulted them on 13th January in Belgrade. A discrimination complaint has been submitted to the Commissioner for the Protection of Equality and further legal options are currently being explored with the family. 
The ERRC's President, Đorđe Jovanović, highlighted the government's recent U-turn on a proposed law to allow police officers to enter citizens' homes without a court order: "After a lot of public pressure, this draft law on policing was withdrawn by the Serbian Government late last year. The most controversial article would have allowed police to enter someone's house without a court order – but this recent case demonstrates that this is actually already the reality for Roma in Serbia. When it comes to Roma, the police do not respect these rights even now when this is illegal. I am so proud that these Romani people know their rights and that they will sue these police officers in court and demand justice."
Police were summoned to the address of the family in the Savski Venac municipality of Belgrade on early on the 13th January after neighbours had complained that there was loud music playing. Miloš (36) and his wife Sofija (27), who is seven-months-pregnant, were in the house along with a nephew named Duško (25) and their children. Three police officers arrived at the house at around 1:00am. They kicked the door open, entered without permission, and were abusive and violent from the moment they arrived. Duško asked them what right they had to enter without permission which led to them beating him, Miloš, and Sofija with batons, as well as any children who got in the way.
Miloš described the night in a statement: "It was about one o'clock in the morning when three policemen entered my house without knocking or anything. They kicked the front door and entered. I turned the music down and my nephew asked them – How can you enter like that without a warrant? This was the moment when I started to record. They replied to him – Since you are so bright, give us your ID and come with us to the police station. They began to pull him out of the house by force, and my nephew kept telling them that he will give them his ID if they simply exit the house since they entered without even knocking, not to mention the lack of a warrant. They knocked him down on the floor and tried to pull him out holding him by hands and legs. One of the policemen took my phone from my hand and erased everything I had recorded. The policemen then called for reinforcements and since I tried to defend my nephew they knocked me down as well. My pregnant wife and eight-year-old daughter tried to protect me and the policeman kicked my daughter, told her: 'fuck your Gypsy mother' and even punched my pregnant wife in the head. The reinforcements then arrived, about ten of them entered, took me and my nephew outside in the yard, knocked us to the floor and beat us. My pregnant wife followed us outside and they punched her in the head again."
Footage taken by children who witnessed the brutality was released today by the ERRC. This is the only footage which remains from the night, as police officers confiscated phones from the adults and deleted videos which were recorded on them. In the video, police officers drag Duško from the house as they arrest him and Miloš before taking them to the police station. It is clearly audible in the footage that the family shout to the police officers "you don't have the right to come in", "you can see how they are hitting us, they are not allowing us to record this with phones." Sofija can clearly be heard shouting "I am pregnant" while another person shouts "it is a pregnant woman who you are hitting, you don't have the right."
Sofija described the incident: "I could not let them beat my husband. I tried to defend him. One policeman told me – I don't give a fuck if you are pregnant. He then punched me in the head and pushed me away."
Miloš and Duško were taken to Savski venac police station and held there for twelve hours where they were further beaten and racially abused. Both Miloš and Duško were forced to sign statements prepared by the police which they did not even read.
The ERRC have secured medical evidence of the injuries caused and are exploring all legal options to support the family in their fight for justice.
The names of the people in this press release have been changed to protect their identities.
This press release is also available in Serbian.
Redaktionen
redaktionen@dikko.nu
---
Att vara en oberoende tidning kostar pengar så vill du hjälpa oss med att betala vårt fika får du gärna swisha en slant till 123 242 83 40 eller bg: 5534-0046
Vill du annonsera eller sponsra, synas eller höras i våra media?
Kontakta oss på redaktionen@dikko.nu
eller ring 0768 44 51 61
IBAN: SE19 9500 0099 6042 1813 4395
BIC: NDEASESS