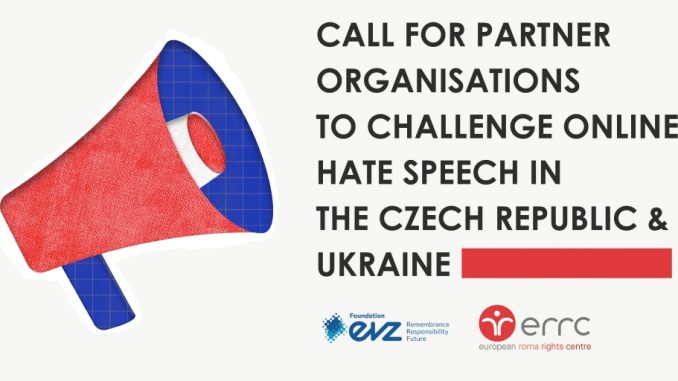 The European Roma Rights Centre (ERRC) is searching for partner organisations in the Czech Republic and Ukraine to implement a volunteer-led, advocacy project to challenge hate speech against Roma online.
The ERRC and the successful partners will expand our network of volunteers to engage in advocacy & research actions, training & education activities, and digital communication work. These activities will directly support ERRC litigation challenging online hate speech against Roma in the Czech Republic and Ukraine.
Organisation Profile:
Actively working with Romani youth (or already has a membership / volunteer section).
The successful partner organisation should be experienced in mobilising young people, and be willing to engage proactively with volunteers to develop meaningful actions which they are passionate about.
Experience in delivering one or more of the following: human rights education / non-formal education / capacity building training for activists or Romani communities.
Experience in delivering advocacy campaigns at a national level.
Has the experience and technical ability to work competently in an online work relationship: liaising with volunteers, ERRC staff, and other partners through digital tools.
Experience in supporting litigation activities (desired).
Demonstrated work in the field of digital advocacy / online campaigns (desired).
Activities:
The successful partner organisations will recruit and mobilise volunteers in their countries to challenge online hate speech, in cooperation with the ERRC's Volunteer Coordinators.
Our goals will be achieved through a combination of using online reporting tools on social media platforms, developing counter-narrative content to push back against racism, and through rights-focussed, training workshops with Romani activists to counter the spread of misinformation, dangerous myths, and false reporting about Roma.
Volunteers will play an important role in searching out anti-Roma hate speech and identifying internet spaces that target Roma, their chosen tropes, and lines of attack. By identifying the different types of online racist content targeting Roma, the volunteers will be well-placed to devise effective response strategies to defend the rights of those targeted by online hate speech and counter those who disseminate racist content.
The ERRC and the successful organisation will deliver trainings on recognising what constitutes hate speech and other forms of discriminatory rhetoric and content; how to engage with online reporting tools on social media platforms to report comments or content which display anti-Roma hate speech and go against the content guidelines for the social media platform; guidelines for monitoring, recording, and reporting to build an evidence-base for complaints and other forms of advocacy. Additional training and mentoring would be provided by ERRC professionals on media communication and advocacy skills, as well as priorities identified by the team of volunteers which they feel important. The partner organisation will be expected to facilitate all activities which take place in-country, including logistics of events, using the grant budget provided.
Budget:
The grant budget will be a total of 31,000 EUR to the Czech partner and 25,000 EUR to the Ukrainian partner. The project will run for a period of two years.
How to apply: interested organisations can apply by sending the following information to mihail.stojanoski@errc.org.
A cover letter of around 500 words telling us how your organisation fits the criteria, and demonstrating your ability to implement the goals of the project.
Details about your organisation (please attached your statutes or a link to them).
Links to your website and social media channels.
Deadline: Tuesday 28th September 2021
While actual recruitment to all ERRC calls is based strictly on merit, the organisation strives to increase the number of persons of Romani origin it works with and therefore specifically encourages Romani candidates to apply. You can read more about our Equal Opportunities Policy in our Policy Manual.
This project is supported by the EVZ Foundation.
Redaktionen
redaktionen@dikko.nu
---
Att vara en oberoende tidning kostar pengar så vill du hjälpa oss med att betala vårt fika får du gärna swisha en slant till 123 242 83 40 eller bg: 5534-0046
Vill du annonsera eller sponsra, synas eller höras i våra media?
Kontakta oss på redaktionen@dikko.nu
eller ring 0768 44 51 61
IBAN: SE19 9500 0099 6042 1813 4395
BIC: NDEASESS