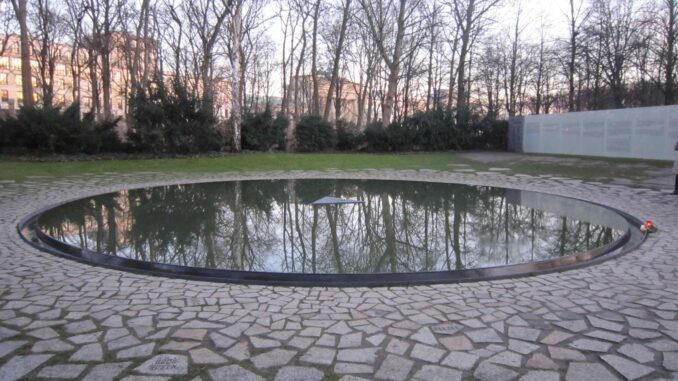 The memorial to the Sinti and Roma of Europe murdered under National Socialism in Berlin is in imminent danger. Deutsche Bahn is putting pressure on the Berlin Senate to approve a new S-Bahn line directly under the memorial.
Källa: Petition in English and Romanes
11th October 2023
To:
Joe Chialo, Berlin Senator for Culture and Community
Manja Schreiner, Berlin Senator for Mobility, Transport, Climate Protection and the Environment
Save the Berlin Memorial to the Murdered Sinti and Roma of Europe!
The memorial to the Sinti and Roma of Europe murdered under National Socialism in Berlin is in imminent danger. Deutsche Bahn is putting pressure on the Berlin Senate to approve a new S-Bahn line directly under the memorial.
For the so-called S21, old trees on a large scale would have to give way, which are central to Dani Karavan's artistic vision. Without these trees, the unique atmosphere and tranquility of the memorial site between the Reichstag building and the Brandenburg Gate would be permanently destroyed.
For the Sinti and Roma minority, the memorial is a sensitive place of remembrance of the victims' suffering and their own loss – a symbolic grave.
"My father, my mother, my sisters and my little brother were murdered in Nazi extermination camps and have no grave where I could go and lay flowers. A place where I can stand still and be with them in my thoughts. That is a great loss. I considered this memorial to be my family's grave. […] I call on those who are planning the route of the new S-Bahn to take into account the wishes of the Sinti and Roma community in Germany and beyond. The only good solution is an alternative route so that our monument is not damaged and peace is guaranteed. […] Leave our monument untouched so that our dead may find their eternal rest."
Thus Zoni Weisz 2021, who as a child survived the genocide of the Sinti and Roma in the Netherlands and lost his entire family.
With the memorial, the Federal Republic of Germany symbolically acknowledges its responsibility for the crimes committed against the Sinti and Roma. Its erection in the heart of Berlin is a centerpiece of historical and political responsibility in the present, in Germany as well as in Europe, a memorial against forgetting. The genocide was only recognized in the Federal Republic of Germany in 1982, and it took thirty more years of political struggle before the memorial could be inaugurated in 2012 – 67 years after the end of the Second World War and 20 years after the first declaration of intent by the federal government to erect such a memorial.
In the summer of 2020, the public and the members of the Sinti and Roma minority learned through the press about the planned construction of the S 21 suburban railway line and the associated encroachment on the memorial.
After numerous protests and negotiations, the "variant 12h" was finally presented as a "compromise proposal". But this too entails the felling of a large part of the surrounding trees and thus the destruction of the overall work of art. Israeli architect Dani Karavan, creator of the memorial, said before his death in May 2021:
"The trees are an integral part of the memorial and a crucial element of the atmosphere I wanted to create. If the trees are altered in any way, the clearing will lose its features and the unique atmosphere of the memorial will be damaged. Any change to the trees would destroy the memorial's seclusion from the city and drastically affect its function as a place for contemplation and meditation."
The Foundation Memorial to the Murdered Jews of Europe, which is also responsible for the Memorial to the Sinti and Roma of Europe Murdered under National Socialism, states that with »variant 12h« it would no longer be able to ensure its legal mandate, the remembrance of the murdered Sinti and Roma of Europe and their appreciation, in a suitable manner.
The Berlin government now wants to press ahead with the construction plans. With only a week's notice, representatives of Sinti and Roma NGOs, Noa Karavan, daughter of Dani Karavan, and the Monument Foundation were invited to a meeting on 28 September. By 13 October, »concrete proposals for improvements to the present proposal (construction variant 12h)« are to be submitted. The Berlin Senate's goal is a »rapid commitment to variant 12h in order to avoid ongoing costs and estimated construction cost increases in the millions«. Alternative routes that would leave the memorial to the Sinti and Roma untouched are no longer being considered for cost reasons.
Are we allowing the interests of Deutsche Bahn, legal successor to the Deutsche Reichsbahn, which transported the victims to the concentration and extermination camps, to destroy the memory of the dead?
We the undersigned and the majority of the Sinti and Roma reject the proposal!
It irrevocably destroys the memorial to the murdered Sinti and Roma of Europe.
It dishonors the victims, the survivors and their descendants.
It fundamentally attacks the commitment of German society to the memory of past crimes.
It is not the task of the affected minority to look for alternative solutions for variant 12h, but the moral and political obligation of all Germans to stand up for the integrity of the monument.
We call on the Berlin Senate not to take any further steps until a route is found that leaves the monument untouched in its entirety.
First signatory:
Hava Karavan, Wife of Dani Karavan
Noa Karavan-Cohen, Daughter of Dani Karavan
Tamar Karavan, Daughter of Dani Karavan
Yael Karavan, Daughter of Dani Karavan
Hamze Bytyçi, Chairman of RomaTrial e.V.
Romeo Franz, Member of the European Parliament
Uwe Neumärker, Director of the Foundation Memorial to the Murdered Jews of Europe
Alexandra Senfft, Publicist
Daniel Strauß, Director of RomnoKher
As well as:
Robert Abzug, Holocaust scholar, emeritus professor of history at the University of Texas USA
Ulf Aminde, Professor, Weissensee Academy of Art Berlin
Joviza Arvanitelli, Association of German Sinti and Roma, Baden-Württemberg State Association (Verband Deutscher Sinti und Roma, Landesverband Baden-Württemberg)
Delal Atmaca, Executive Director of the Dachverband der Migrantinnenorganisationen e.V. (Umbrella Organisation of Migrant Women's Organisations).
Simone Barrientos, Former Member of the German Bundestag, President of the Louise Aston Society
Marianne Birthler, former Commissioner for the Stasi Files
Nizaqete Bislimi-Hošo, Chairwoman of the Federal Roma Association (Bundes Roma Verband e.V.)
Lena Brasch, director and author
Candice Breitz, Artist and Professor (HBK Braunschweig)
Ethel Brooks, Historian, Chair, Women's, Gender and Sexuality Studies, Rutgers University, USA
Leah Carola Czollek, Director of the Institut Social Justice und Radical Diversity
Tahir Della, spokesperson of the Initiative of Black People in Germany (ISD) and board member of Decolonize Berlin
Murat Dikenci, Artistic Director Studio Я – Maxim Gorki Theatre
Marko Dinic, writer and publicist, Vienna
Debórah Dwork, Director, Center for the Study of the Holocaust, Genocide, and Crimes Against Humanity. City University of New York
Sami Dzemailovski, 1st Chairman Carmen e.V., International Roma Cultural and Sports Association
Kenan Emini, Chairman of the Board of the Roma Center Göttingen
Henny Engels, Federal Board of the Lesbian and Gay Association in Germany (LSVD)
Jeremy Esser, Schwetzingen, former member of the state parliament
Jo Frank, Director of the Coalition for Pluralistic Public Discourse
In Romanes
7to Oktobri 2023
Vash:
Joe Chialo, Berlinesko Senatori vash Kultura thay Komuniteti
Manja Schreiner, Berlineski Senatora vash Mobiliteti, Transporti, Klimako thay Truyalipasko Garavipe
Garaven Berlinesko Memoriali e mudarde Romengo thay Sintengo ani Evropa!
O memoriali e mudarde Romengo thay SIntengo ani Evropa talo Nacionaluno Socializmo ano Berlini si pe baro riziko. Deutsche Bahn dela zori Berlineske Senateske te aprovinel nevo S-Bahn drom direkt talo memoriali.
Vash ayeka khardo S21, purane kashta musay te putaren drom kola si centralune vash Dani Karavaneski artistikuni vizia. Bizo akala kashta, e unikat atmosfera thay o traynipe e memorialune thanesko mashkar Reichstag kompleksi thay Brandenburg Porta shay te iven sahipea aravde.
Vash o Sinti thay Roma minoriteti, o memoriali si senzitivuno than e pelaripasko pe godi e zoreske viktimengo thay lenge nashalipasko – simbolikuno limori.
"Moro dat, miri day, mere phenya thay moro tikno phral mudardile ko Nazi eksterminipaske kampya thay na silen limori kote shay te mekhav luludya. Than kote me shay te beshav korkoro thay te ovav olenca ko mo gndipe. Akava si yekh baro nashalipe. Konsiderinava akava memoriali sar ma familiako limori. […] Kharava odolen kola planirinena e ruta vash nevo S-Bahn te len pe konsideripe o mangipya e Romengo thay Sintengo ani germania thay may buhle. E yekhuni shukar solucia si alternativuni ruta resipea kay amaro monumenti te na pelargyol thay o traynipe si garantimo. […] Mekhen amaro monumenti bi qalavdo akalea vi amare mule te arakhen olengo savahtuno traynipe."
Thus Zoni Weisz 2021,kova sar qhavoro jivdingya o genocidi e Sintengo thay Romengo ani Holandia thay nashalgya sah para familia.
E memorialea, E Federaluni Germaniaki Republika simbolikipea penjarela olako godornipe vash o krimya kola kerdile mamuy o Sinti thay Roma. Olesko vazdipe ko Berlinesko cenro si centraluno kotor e historikune thay politkake godornipasko ko prezent momento, ani Germania sar vi ani Evropa, memoriali mamuy bisteripe. O genocide sine penjardo ni Federaluni germaniaki Republika numay ko bersh 1982, thay manglepe pandar trianda bersha e politikune maripasko anglo te inaguringyol o memoriali ko bersh 2012 – 67 bersh palo Duyto Lumiako Maripe thay 20 bersh pali angluni deklaracia e mangipasko e federalune raipasko te vazdel ayeka yekh memoriali.
Ko nilay e bershesko 2020, e publika thay o jene e Sinti thay Roma minoritetesko siklile kotar o medie vash o planirime konstrukcie e S 21 talourban pampureska lenyako thay o asocimo pelaripe e memorialesko.
Palo nesave proteste thay negociacie, e "variant 12h" finalipea prezentisali sar "kompromisesko propozali". Numay vi akava sikavla o peripe e bare kotoresko e pashutne kashtengo thay o sar vi o aravipe e sah arteska butyako. Israeluno akitekti Dani Karavan, memorialesko kreatori, anglo poro meripe ano mayi 2021 phengya:
"O kashta si integraluno kotor e memorialesko thay krucialuno elementi e atmosferako koya manglape te kergyol. te sine kay o kashta yaveringyona pe varesavo drom, o shuzharipe ka nashalel o qaqipe thay e unikat atmosfera e memorialeski ka peravgyol. Varesavo yaveripe e kashtengo ka peravel memorialesko ulavipe kotar e diz drastikipea ka qalavel oleski funksia sar than vash gndipe thay meditacia."
O Temelipasko Memoriali e mudarde Evropake yahudiengo, kova pe ayni vaht si godorno vash o Memoriali e Romengo thay Sintengo ani Evropa Mudarde Talo Nacionaluno Socializmo, hraminla kay e »variant 12h« nashti may luge te sigurinel Olesko elgaluno mandati, o pelaripe pe godi e mudarde Sinti thay Romengo ani Evropa thay olengo uqo evaluipe, pe manglo drom.
Berlinesko raipe akana mangela te lugyarel maydur e planirime konstrukciake planenca. NUmay yekhe kurkeske penjaripea, o reprezentya kotar o Romane thay Sinti BRO, Noa Karavan, Dani Karaveneski qhay, thay e Monument Fondacia khardile pe kedipe ko 28 t Septembri. Ko 13-to Oktobri, »konkretuno proposal vash laqharipe ko prezentuno proposali (konstrukciako varianti 12h)« manglape te dengyon. O resipe e Berineske Senatesko si »si deipe lafi vash varianti 12h resipea kay te nashen kotar o lugyardo kosto thay kalkulime konstrukciake kostesko bayripe ji ko milionya «. Alternativune rute kola shay ka mekhen o memoriali e Sintenge thay Romenge sar biqalavdo akan na konsideringyona vash nisavo kostosko sebepi.
Simey m amen mekhipa o interesya e Deutsche Bahnesko, legaluno lhiravutno e Deutsche Reichsbahnesko, kova transportingya e viktimen ko koncentraciake thay eksterminaciake kampya, te peravel e memoria e mule manushengi?
Amen o tele parafime thay e mazhuranca e Sintengi thay Romengi kontrina o proposali!
Bi revokipasko peravela o memoriali e mudarde Evropake Sintengo thay Romengo.
Birespektinela e viktimen, e mule aqhilen thay olenge avutnen.
Fundamentalipea atakinela o dedikipe e Germanyune amalipasko pe memoria e nakhle krimengo.
Na si o obliglipe e qalavde minoritetesko te dikehl vash alternativune solucie vash varianti 12h, numay e moral thay politikuni obligacia e sah Germanyengi te ushten vash o integriteti e monumentesko.
Khara sah e Berlinesko Senati te na len maybut bajakya ji na arakhlola e ruta koya mekhla o monumenti bi qalavdo thay olesko sahipe.
Angluni parafin:
Hava Karavan, Dani Karavaneski romni
Noa Karavan-Cohen, Dani Karavaneski qhay
Tamar Karavan, Dani Karavaneski qhay
Yael Karavan, Dani Karavaneski qhay
Hamze Bytyçi, Sheruno e RomaTrial e.V.
Romeo Franz, Evropake Parlamentesko Jeno
Uwe Neumärker,Direktori e Memorialuna Fondaciako e Mudarde Evropake Yahudiengo
Alexandra Senfft, Publicista
Daniel Strauß, Directori e RomnoKher
redaktionen@dikko.nu
---
Att vara en oberoende tidning kostar pengar så vill du hjälpa oss med att betala vårt fika får du gärna swisha en slant till 123 242 83 40 eller bg: 5534-0046
Vill du annonsera eller sponsra, synas eller höras i våra media?
Kontakta oss på redaktionen@dikko.nu
eller ring 0768 44 51 61
IBAN: SE19 9500